Lugnut


Basic Information
Gender:

Male

Age:

18

Occupation:

Biker

Relationships
Friends:
Behind the Scenes
Portrayed by:

William Loftis
Lugnut Timothy Parsons is a secondary character in Wet Side Story. He is the loyal sidekick to Butchy, the leader of the bikers.                   
He always carries his comb with him and is the tallest in the group.                   
Lugnut is portrayed by William Loftis                   
Personality
Sometimes he's a tough guy, but he's not bad, in fact, he can be a happy person, like when he is dancing.
On many occasions, he is combing his hair.
Lugnut is very loyal to Butchy, his friend and leader.
He is a friend of Lela, Struts and CheeChee too.
Appearance
Lugnut is a classic biker, from the 60s.
In Wet Side Story we can see him wearing a white or black T-shirt, and a dark jacket (with the Rodents social club logo), in addition to gloves and jeans of the same color. His socks are white or black too.
He is wearing red converse sneakers.
But in "Lela the queen of the beach" he wears a black t-shirt and jeans too. He appears without his gloves, and his sneakers are black.
His jacket change to a new one, this time is white with black squares.
Trivia
He learns to do tricks with his motorcycle in Big Mommas.
He was the first to notice that one of the other characters was disappearing.
In the soundtracks of Teen Beach 2 that we can listen to on Spotify or on the cd of the songs, he replaces the part that Struts sings in "That's how we do".
Ever since Kiki left Teen Beach 2, it is believed that they would be dating or he would be single.
He is an orphan, like the rest of the bikers and surfers.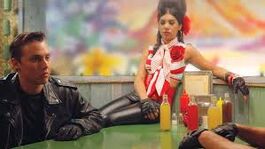 Gallery
| | |
| --- | --- |
| | To view the Lugnut gallery, click here. |